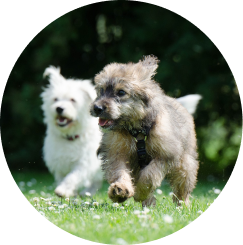 ​​At Winslow Park Animal Hospital, we believe in the importance of keeping your beloved pet safe and secure. This simple, relatively painless, and affordable option is your pet's ticket home if ever lost. A microchip, no bigger than a grain of rice, is inserted just under your pet's skin. This chip holds a unique identification number that can be scanned and matched to your contact information in a national database. This means that if your pet is ever found, they can be swiftly returned to you.
The procedure is quick and causes minimal discomfort, it can be done during a regular check-up or vaccination appointment. Not only it increases the chances of your pet coming back to you in case they wander off but also it serves as identification if they are stolen.
Don't wait until it's too late. Microchip your pet today and give yourself the peace of mind that they'll always come back to you. For more information or to schedule an appointment, please call us at (203) 226-5555.